Doves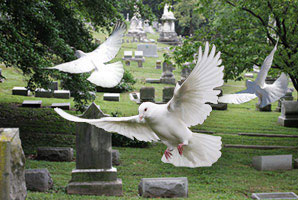 The white dove has symbolised peace and love since biblical times.
Whilst the origins of this custom are long since lost, we do know that they have come to represent the qualities of love, hope, peace, the end of an era and a new beginning.
According to custom, one, two, or a number of doves are released to represent the recently departed, and tradition goes that they will rise high into the sky to make their journey home. For funeral services, the sight of these pure white birds soaring into the sky is spiritually breathtaking.
Please let us know if you would like to release pure white doves as part of the funeral service, or simply give us a call to chat it through. Please contact us on the phone number at the bottom of this page, just scroll down.