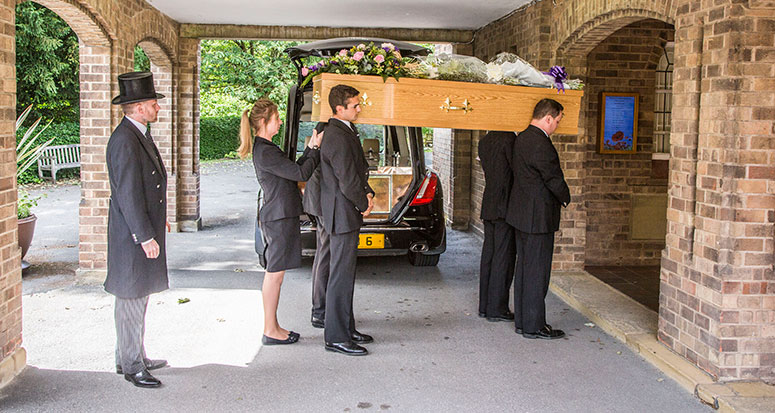 Your Services
All too often families discount the value of ceremony after the death of a loved one. What they don't always appreciate is that a funeral is a pivotal part of the healing process.
Funeral Services
Coming together with family and friends gives everyone the opportunity to share memories, express emotions and find comforting support. Whether you choose burial or cremation, the need for acknowledgement of the loss with family and friends, is ever present. Together we can create a unique, meaningful ceremony that highlights the genuine individuality of your loved one.
Burial Services
If burial is chosen, the ceremony you design revolves around the coffin being present. Traditions may be followed, with a viewing and then a service in church, or you might simply decide to have a more relaxed service.
Either way, a private service at the graveside often follows these more public events. All said, there is no hard and fast rule for celebrating the life of a loved one when it comes to burial.
We are here to listen to your concerns, share your experiences and help you arrive at the perfect way to gather together, as friends and family, prior to your loved one's interment.
Cremation Services
Cremation refers solely to the manner in which you or your loved one has chosen to deal with the physical remains. However, in no way does it limit how you choose to celebrate and honour your loved one's life.
We still recommend that you have a service/ceremony because the need for such a healing experience is not lessened by the decision to be cremated.
Create Healing Experiences
In the depths of early grief, you might think that it would be easier to take care of things as simply and as quickly as possible. But easier, isn't always better. You must first set the stage for the future by giving your family and friends the opportunity to start the healing process. That start is often in the funeral ceremony.
You can never go back and do it again. That's why we hope you will honour and celebrate your loved one in a way that you can look back on in years to come, and be thankful that you did the best you could for that special person. Creating a ceremony that calls together the hearts and minds of all who loved the deceased, is a gift to everyone involved. A gift of memories, a gift of healing, a gift of a lifetime. Please contact us on the phone number at the bottom of this page, just scroll down.
A Final Resting Place
Creating a place to connect and remember makes it possible to find comfort long after the funeral. Such a place helps everyone to heal and move forward.
A Consistent Place of Healing
In our modern society people aren't given enough time to grieve their losses. The pressure of work and financial concerns can bring the bereaved back into the working world environment far too quickly.
Having a permanent place – in a cemetery or at the crematorium – that can be visited regularly by family and friends, is essential following death. Such a location is a focal point of memorialisation. It provides a place to go and remember your loved one, whilst creating a focal point at which to commemorate important occasions. It can also help to make a birthday or anniversary less painful.
A permanent place to reflect on your loved one becomes a way of connecting to a family's past. Visiting the resting place of grandparents or great grandparents can provide children with a memorable link to their personal history.