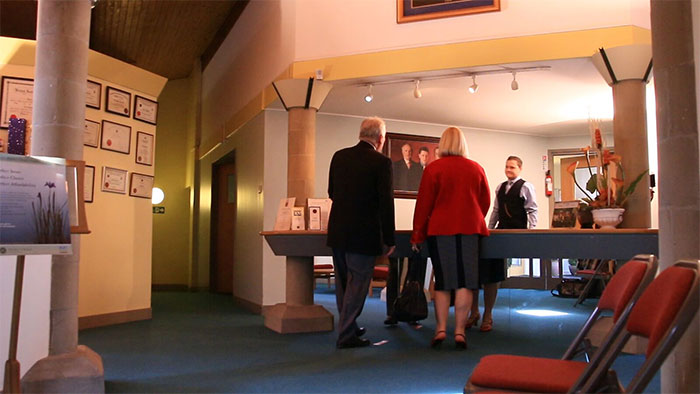 Registering a death is emotional but staff at each Register Office are there to help and to make the process as simple and as easy as possible.
There is no charge for registering a death.
Forms to register a death are available from Eric F. Box or the Department of Work and Pensions.
When to register a death
Within five working days of the death occuring unless a coroner is involved.
Where to register a death
In the district where it occurred, NOT where the person lived.
For example the death of a loved one in Dewsbury Hospital has to be registered at Dewsbury or Huddersfield, whilst the death of a relative in Pinderfields Hospital should be registered at Wakefield or Pontefract, irrespective of where they lived. We will inform you which Register Office to visit if you are unsure.
In order to register a death you will need to book an appointment.
The telephone numbers of the different offices around West Yorkshire are as follows:
Dewsbury:01924 324 733
Huddersfield:01484 221 030
Wakefield:01924 302 185
Pontefract:01977 722 670
Leeds:0113 222 4408
Bradford:01274 432 151
Halifax:01422 288 080
(correct at time of website development)
Who can register a death?
The following have a legal obligation to register a death:
A relative of the deceased, an adult person present at the death or a person arranging the funeral.
What is needed to register?
You will need to provide the following documentation and information about the deceased:
Medical Certificate of the Cause of Death issued by a doctor, unless the Coroner or Eric F. Box have advised you that one isn't required.
When and where the death occurred.
Full name, address, date of birth and last known occupation.
If the deceased was married, a widower or widow, the full name and occupation of his/her spouse.
If easily available you should take:
Deceased's birth certificate or marriage /civil partnership certificate if applicable.
Deceased's medical NHS card.
If the deceased received a pension or allowance from public funds, you will need to inform the Registrar.
Documents the Registrar will give you
The Registrar's Certificate for Burial or Cremation. This is green in colour and will be handed to you where applicable. You must hand this to your funeral director since the funeral cannot take place without it.
A Certificate of Registration. This is white in colour and is issued for use by the Department for Work and Pensions.
Purchasing a Copy of the Entry in the Register (Death Certificate)
You may purchase copies at the time of registration. You will need these for insurance companies, banks, and private pensions companies etc. The Register Office will advise you of the cost.