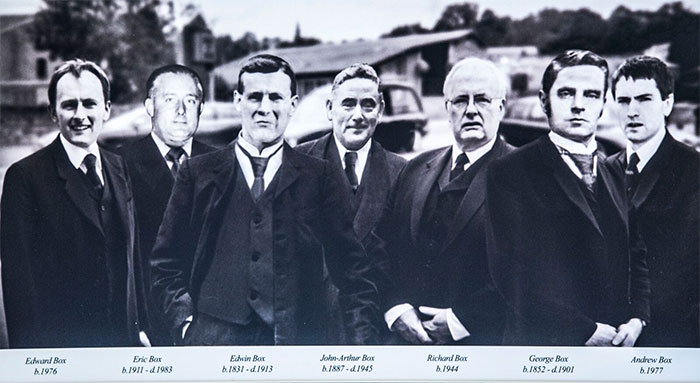 High standards take decades to craft and evolve. Eric F. Box Funeral Directors has been plying its trade since 1853 and, as a long established family owned firm, we consider it our responsibility to provide one of the best services in the UK and Yorkshire, backed up by a strict code of ethical business practices.
Our origins date back to the mid 19th century when Edwin Box started a small haulage business in Cross Street, Batley. Some years later he moved across the road to Wellington Street where, as the owner of horses, he was able to diversify into carriage mastering, providing horse-drawn hearses and cabs for funerals.
Edwin's son George had three sons who continued to expand the independent firm of funeral directors and, due to the demise of the horse hearse in 1932, motor garages were established in Dewsbury, Batley and Ossett under the company name 'George Box Ltd.'
The business eventually moved from Batley to Dewsbury and, as the 1970's heralded the arrival of pop culture, so they also saw the emergence of 'funeral directing' as many firms started to take a more active role in the bereavement industry.
Richard Box's sons, Andrew and Edward – the sixth generation of the family – joined the firm in the 1990's and, in 1998, the current purpose-designed bereavement home on Bradford Road, Dewsbury opened, extending still further in 2014.
Earlier in 2003 – as the firm was celebrating 150 years in business – Box's first branch office opened in Ossett, re-locating to its current location on Kingsway seven years later. Families now have full access to chapel-of-rest facilities at both sites.
Eric F. Box remains committed to providing of-the-moment funeral services, that are responsive to both the changing needs of families and society at large.